Sometimes you just need an adventure to cleanse the bitter taste of your life from your
soulspirit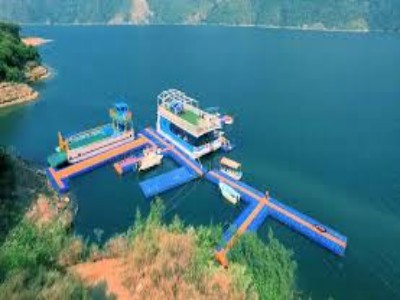 District Tehri Garhwal stretches from the snow clad Himalayan peaks of Thalaiya Sagar, Jonli and the Gangotri group all the way to the foothills near Rishikesh. The gushing Bhagirathi which runs through seems to divide the district into two, while the Bhilangna, Alaknanda, Ganga and Yamuna rivers border it on the east and west. Tehri Garhwal is surrounded by Uttarkashi district in the north, Pauri Garhwal district in the south, Rudraprayag district in the east, and Dehradun district in the west.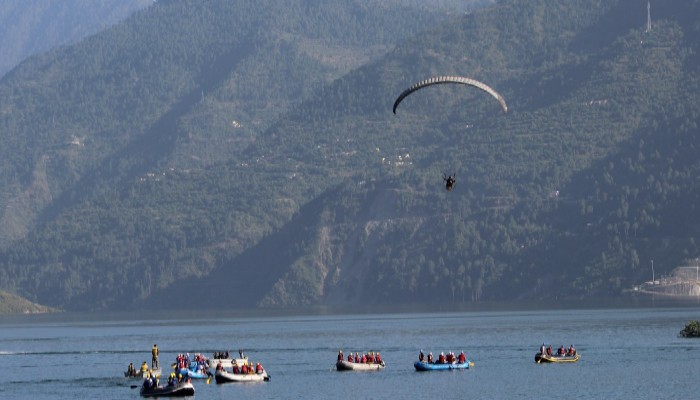 Tehri Dam- one of the world's largest hydroelectric projects harnessing waters of two important rivers of the Himalayas namely Bhagirathi and Bhilangana.

Scenic views at every other step
What Is In And Around Tehri To Experience?
Tehri Dam – The Tehri Dam is the tallest dam in India. It is a multi-purpose rock and earth-fill embankment dam on the Bhagirathi River near Tehri in Uttarakhand, India.
Chamba- At an altitude of 1676 m above sea level, on the foothills of the Himalayas lies Chamba. Unexplored, untouched, overlooking the snow-clad peaks on one side and offering a magnificent view of the valley. An unspoilt territory and covered with lots of pine and deodar trees, Chamba offers you a never explored break. It is an excellent place to relax and enjoy and is just a drive away from the city blues. After the submergence of old Tehri, Chamba is the fast-emerging tourist spot in Tehri Garhwal.
Dhanaulti- Dhanaulti is fast emerging as a gem among the major travel destinations in Uttarakhand. It is on Mussoorie – Chamba road, at an altitude of 2,250 m.It comes as a pleasant surprise for the enthusiastic weekend travelers, who find it peaceful, relaxed and laid-back. It's a different experience altogether. Dhanaulti is away from the crowds, busy market places and pollution. Set amidst thick virgin forests of Deodars, Oaks and Rhododendrons, it is an ideal location that ensures absolute peace of mind and soul. The green meadows, towering trees, breathtaking view of the Himalayan peaks, make Dhanaulti an enticing hideaway for tourists.
Rock-Climbing- The Old Tehrithat was once intensely possessed, today lies under the water in remains. With incalculable trekking trails and spots in this chilly district, scattered with streams and waterways and probably the most stunning perspectives, Tehri Garhwal has a tendency to be a significant most loved for trekkers and mountain climbers.
Sem Mukhem Nagraja- T he Sem Mukhem Nagraja is an ancient temple dedicated to Lord Krishna (who is also known as Nagraja) and is located in Tehri Garhwal of Uttarakhand. The Sem Mukhem Nagraja or the temple of the king of snakes is one of the famous Nagatirthas or snake pilgrimage sites in the whole of Indian sub continent. According to the followers this is the original layer of the Nag raja.
Devprayag – This town is a place of Pandits who belongs to Badrinath Dham. Those who do not know where the rise of the Ganges is due to them, we should tell them that the birth of Ganga starts from here after the merging of two rivers named as Bhagirathi and Alaknanda. Bhagirthi comes from Gangotri and Alaknanda comes from Satopanth and Bhagirath Kharak glaciers.
Kanatal- Located in Uttarakhand, to the north of India, Kanatal is a hill station frequented for its pristine beauty and adventure activities. The scenic destination is in close proximity to major tourist destinations like Delhi, Mussoorie, Chamba, and Rishikesh, which makes Kanatal the perfect weekend getaway for locals and tourists alike! Given that the town is perched at a height of 8500 feet above sea level and is resplendent with the magnificent Himalayas and deep valleys, it is undoubtedly a piece of paradise for photographers and nature lovers. But that's not all there is to Kanatal. The hill station offers some wonderful sightseeing, like the historic Surkanda Devi Temple which weaves with it a tale of Lord Shiva and Goddess Sati.
Surkanda Devi Temple- Surkanda Devi is a Hindu temple near Kanatal, Uttarakhand, India. It is at an altitude of about 2756 metres lies close to nearby hill stations of Dhanaulti
Mussoorie- Mussoorie, Queen of the Hills, located some 290 km north of New Delhi, is among the most popular hill stations of the country. It is a captivating paradise for leisure travellers and honeymooners. A perfect summer resort and a major educational and cultural centre has been rolled into one hub. Located on a 15 km long horseshoe ridge with the grand Himalayas as a backdrop, the colonial hill resort of Mussoorie spreads across at a height of 2,005.5 m above sea level. From this vantage point, Mussoorie offers superb scenic view of peaks of the Himalayas in western Garhwal.
Rishikesh– It is a most tranquil place in northern Uttarakhand, surrounded by hills and bisected by the wide and sluggish Ganges, is often claimed as the `Yoga Capital of the World'. Back in the 1960s Rishikesh gained instant fame as the site where The Beatles came to stay with their guru, the Maharishi Mahesh Yogi. It is an excellent place to meditate and study yoga. Rishikesh is also a good starting Laxman Jhula point for treks to Himalayan pilgrimage centres such as Badrinath, Kedarnath , Gangotri, Yamnotri.It is rightly called the gateway to the Himalayan Shrines of Badrinath, Kedarnath, Gangotri and Yamunotri. 7 Story Temple Situated 24 km upstream from Haridwar, at the confluence of the Chandrabhaga and Ganga.
Feeling Excited, Want to plan a trip!