Nature is painting for us, day after day, pictures of Infinite
beautycharm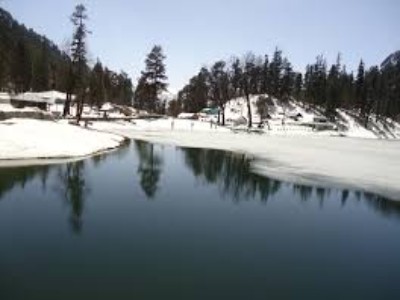 Uttarkashi that literally suggests 'Kashi of the North' is also nicknamed as 'Somya Kashi ' and 'Shivnagri'. Like Kasi, the town of Uttarkashi also houses the sacred Vishwanath Temple. This holy shrine features a copper trident, having a circumference of 1 meter.
The charming town of Uttarkashi is quite popular amongst the adventure enthusiasts as it offers several opportunities for trekking, mountaineering, and adventure sports.
Religious people and weather

Joint of different rivers
What Is In And Around Uttarkashi To Experience?
Dodital Lake and Darwa Top Trek- Dodital is a freshwater lake in uttarkashi district. Assi ganga rises from dodital and joins bhagirathi. The confluence is at Gangori. To reach Dodital, From Uttarkashi, a short jeep ride of 19 kilometers will take you to Sangamchatti from where the 24 km trek to Dodital begins. This is a mostly gentle trek, with overnight halt options at the village of Agora or Bebra. At Agora, which is 6 km from Sangamchatti, one can stay at one of the private lodges or alternatively, camp at Bebra which is 8 km from Sangamchatti. From there one can start the second leg of the trek the next day which will take you to Dodital via the small summer settlement of Manjhi.
Harshil- Harsil is an unspoiled and hidden jewel of Uttarakhand state offering ample scope for people seeking peace and serenity in the lap of Himalayas. It is situated on the banks of Bhagirathi River at an elevation of 2620 mts above sea level. This quaint hamlet has become popular in recent years among travel enthusiasts and nature lovers. There are several adventurous trekking routes that you can do in the vicinity of Harsil.
Dayara Bugyal- Amongst all the treks in Uttarakhand, Dayara Bugyal is considered to be the most breathtaking trek. The trek brings us to a highland meadow situated in the Uttarkashi district of Uttarakhand which stands tall at an elevation of 10,000-12,500ft. This lush green expanse of meadows serves as an excellent destination for skiing during winter and is spread over 28 sq km. This breathtaking location is nestled amidst towering snow-peaked mountains. While on this memorable Himalayan Dayara Bugyal trekking tour in India at Uttarakhand, catch sight of the lake of Barnala Tal strewn across the green alpine prairies– in whose reflection the peaks look even more beautiful.
Yamunotri- The shrine of Yamunotri is situated at an altitude of about 3185 mts is a point of paramount religious importance for Hindus and an essential pilgrimage.Yamunotri is famous for its thermal springs and glaciers is a part of famous Char Dham Yatra. Yamunotri is the source of Yamuna river. According to a legend, Asit Muni, a revered sage, used to reside here.
Gangotri- Gangotri is located at an altitude of 3048 mts in the Himalayas of Uttarakhand, India. Gangotri is situated in the northern part of Uttarkashi District and very close the Indo-Tibetan border. It is approximately 300 km from Dehradun, 250 km from Rishikesh and 105 km from Uttarkashi.
Dodital Hanuman Chatti Trek- The trail from Dodital to Hanumanchatti is an amazing route and can be undertaken by first timers and experienced trekkers. If you wish for a breathtaking view of the Himalayas, this is the trekking trail for you. The tranquil and pristine Dodital lies beyond the canyon of the Bhagirathi River between Ganga and Yamuna river valleys.
Feeling Excited, Want to plan a trip!